Renewable energy promotion scheme by REPO
REPO provides business schemes to maintain and expand renewable energy in harmony with the local community so that it can be positioned as a valuable local resource and become a "local power source" and a "long-term power source".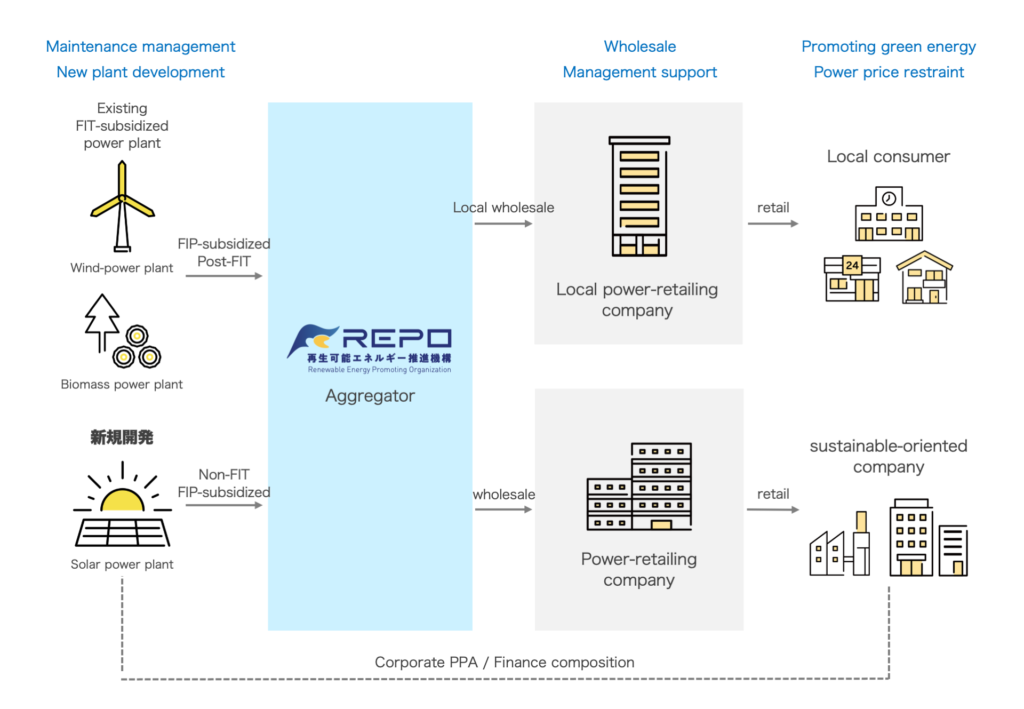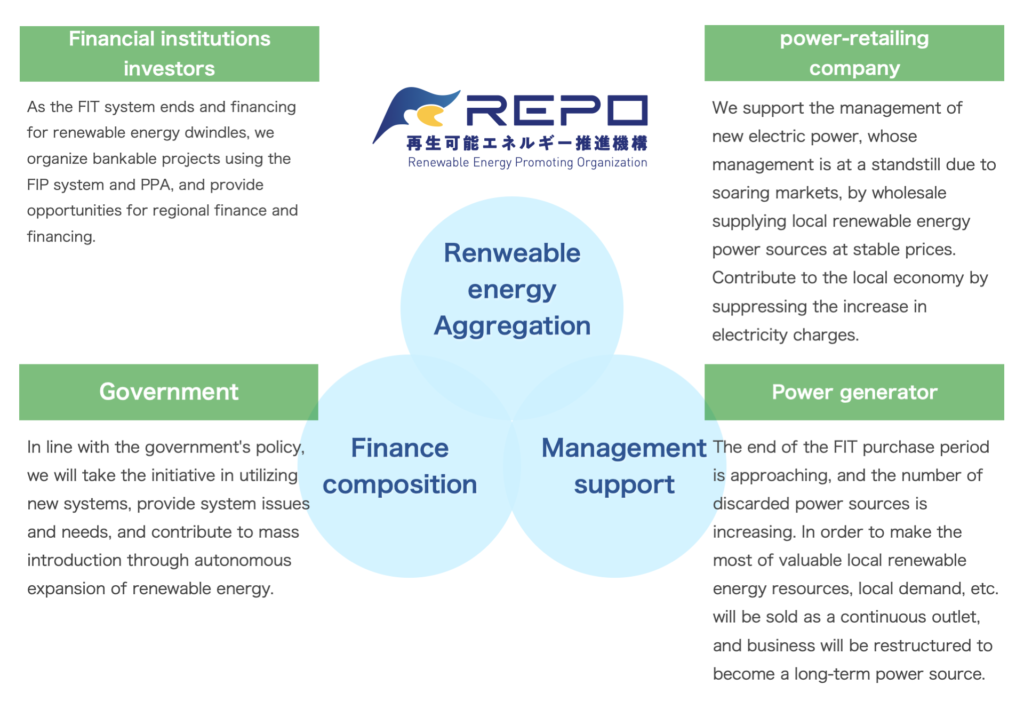 Renewable energy aggregations
As a specified wholesale supplier (aggregator), we aggregate renewable electricity on a regional basis and provide wholesale supply and sell electricity on the market so that renewable energy can be effectively utilized.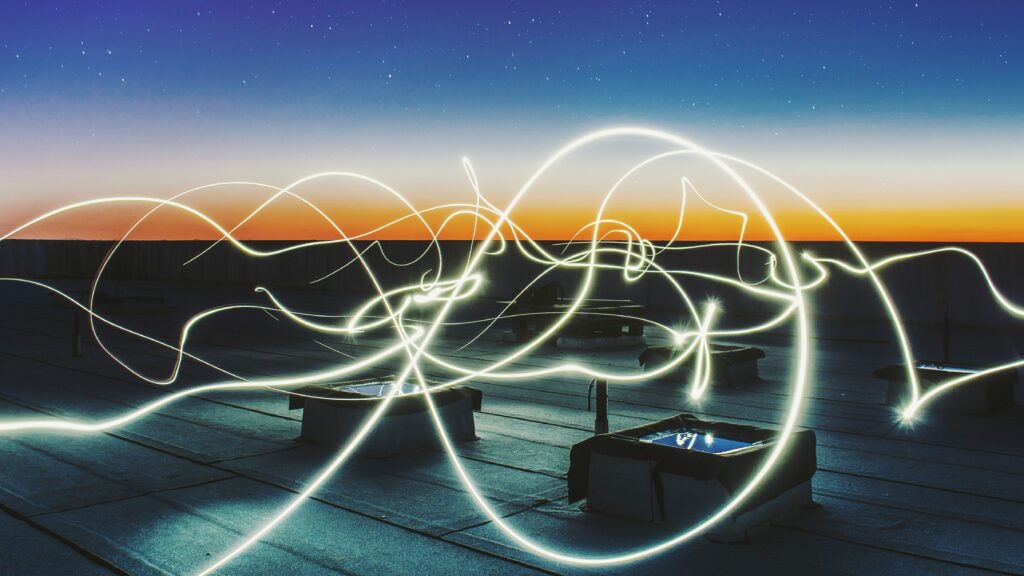 Support for new renewable energy development through long-term feed-in tariffs
Starting in FY2022, new development will in principle be based on the FIP system.
Under the FIP system, the purchase obligation by transmission and distribution companies will be eliminated, and power generators will be required to secure their own sellers on the wholesale market or through a relative contract (PPA).
Compared to the FIT system, the hurdle for new development has been raised, and there are fears that the promotion of renewable energy will stagnate.
REPO, as an aggregator, will establish a PPA scheme that minimizes imbalance risk by aggregating regional renewable energy sources on a large scale and purchase them at a long-term fixed price.
This minimizes risk for power generators and allows them to focus on development and operation, thereby promoting new renewable energy development.
Conversion of existing FIT power sources into local and long-term power sources
Renewable electricity developed under the FIT system cannot be used directly in the region.
By converting this to FIP, it can be supplied to local demand through new local electric power companies, etc.
While electricity prices are soaring, renewable energies such as wind and solar power are valuable power sources that can contribute to stabilizing electricity prices because they are not affected by fuel prices.
In addition, an increasing number of wind turbines that were developed in large numbers around 2000 have already reached the end of their FIT period and are being decommissioned or removed.
REPO will promote the use of renewable energy as a long-term power source for more than 20 years by consolidating renewable energy power sources and utilizing them in the region and maintaining a place to sell power after FIP and graduated FITs.
Offshore wind power aggregation
Since the use of the FIP system is a prerequisite for the planned offshore wind power in the future, it is necessary to secure a power seller (off-taker).
We will support the formulation of a long-term PPA contract scheme so that the large amount of renewable power generated from large-scale renewable power sources can be supplied to RE100 companies and others through retailers, while allowing the region to utilize the power on a priority basis.
The renewable electricity will be aggregated on a regional basis and supplied wholesale or sold on the market while minimizing imbalance risk.
Finance structuring support
By securing power sellers such as regional municipalities and RE100 companies, we work with regional financial institutions and government funds to assist in the structuring of financing.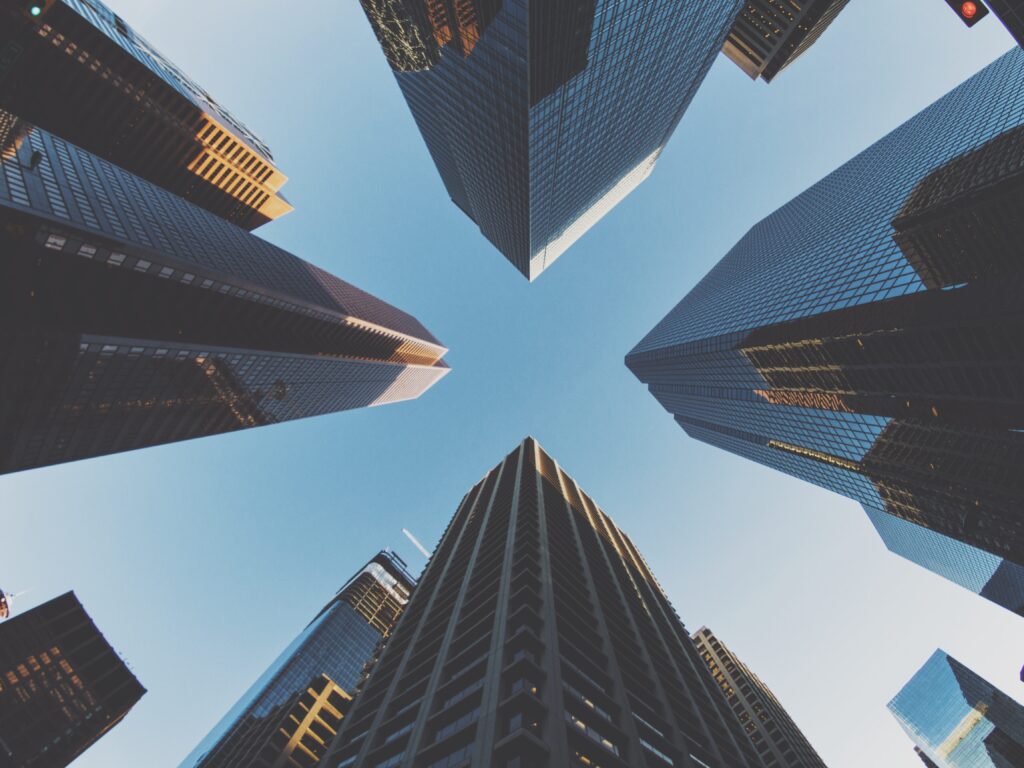 End of FIT (Feed-in Tariff)
Ten years have passed since the introduction of the feed-in tariff (FIT) system, and the cost of generating renewable energy has been declining. The Sixth Basic Energy Plan, approved by the Cabinet in October 2021, outlines the government policy of "becoming independent from the FIT system and integrating the market". As a result, renewable energy power sources, like other power sources, are required to be developed on the premise of selling electricity on the market or through a relative contract (PPA).
Development of power sources with guaranteed power sales
Unlike project financing and loans under the FIT system to date, power supply development must proceed after power producers find buyers and secure revenue on their own.
Financial institutions are also moving toward financing non-FIT and FIP power sources, making financing discussions for new power source development by developers who lack experience and track record even more difficult than before.
Maximize project value
REPO will establish a scheme that ensures financing eligibility for renewable energy power sources by working with stable buyers such as RE100 companies and municipalities that have high needs for renewable energy purchases. By establishing a financing scheme that combines multiple financing methods, we can also assist in structuring financing for non-FIT power sources for which project financing is difficult.
We aim to establish financing that maximizes the value of the project as a sustainable and valuable project for many stakeholders and its significance as a regional power source, rather than viewing renewable energy power generation projects as mere investment targets.
Consulting
We provide consulting services to companies and municipalities on the procurement and utilization of renewable energy for the restructuring of new regional electric power companies, succession of power generation business, and decarbonization.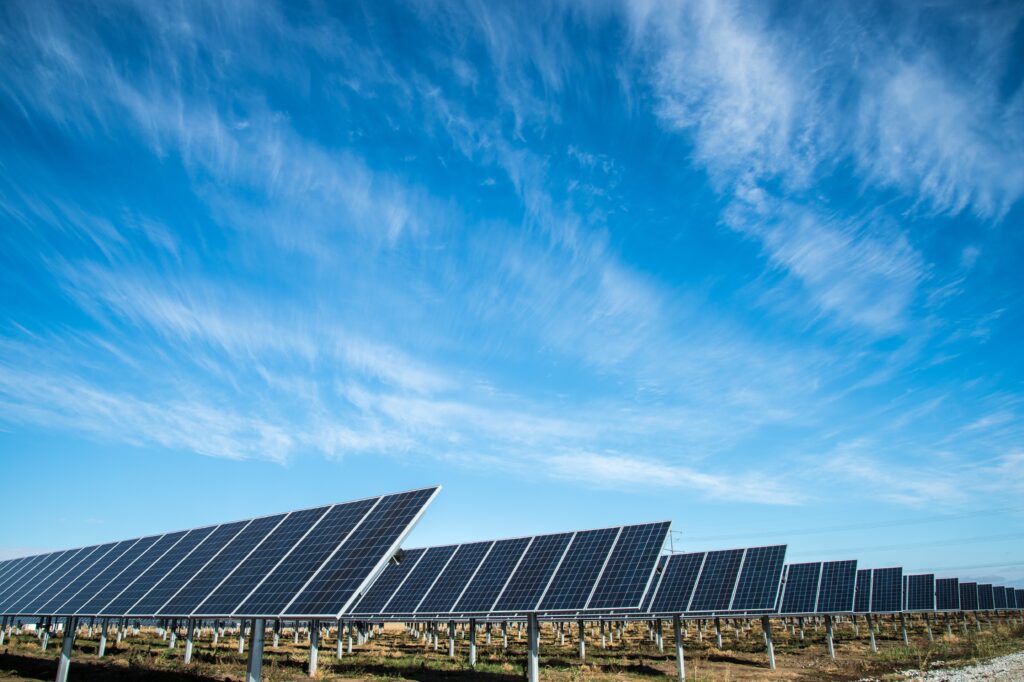 Support for management of new electric power companies
Many of the new regional electric power companies that have been established to promote local production for local consumption and regional development have utilized renewable energy sources created under the FIT system. In order to fulfill the original purpose of new regional electric power companies, REPO is working as an aggregator to stabilize wholesale power supply by converting local power sources to FIP or utilizing graduated FITs, etc. REPO supports new regional electric power companies to fulfill their original purpose by stabilizing wholesale power supply with renewable energy sources through FIPing of regional power sources as an aggregator and the use of graduated FIT.
Revitalization and succession of power generation business
REPO will continue the business of renewable energy power generation sources that are approaching the end of their FIT period by arranging for the sale of power to local communities, thereby prolonging the life of these valuable renewable energy sources. In the event that it is necessary to transfer or take over the business, REPO itself acquires the power generation assets and maintains and renovates them in order to revitalize and maintain the power generation business.
Procurement and utilization of renewable energy
In RE100 companies and municipalities aiming to decarbonize, renewable energy procurement and its use must be embodied. However, simply purchasing environmental value certificates is not enough to achieve long-term decarbonization goals. In addition, the REPO 100 considers that the preferred method of procuring renewable energy is to contribute to the increase of renewable energy, or "additionality". For this reason, REPO supports the procurement of renewable energy through "corporate PPAs," which are long-term power purchase agreements with renewable energy sources.